These swirled peppermint sugar cookies, coated in Andes peppermint chips and topped with sugar crystals, are not only pretty but absolutely delicious. This is the perfect Christmas cookie recipe!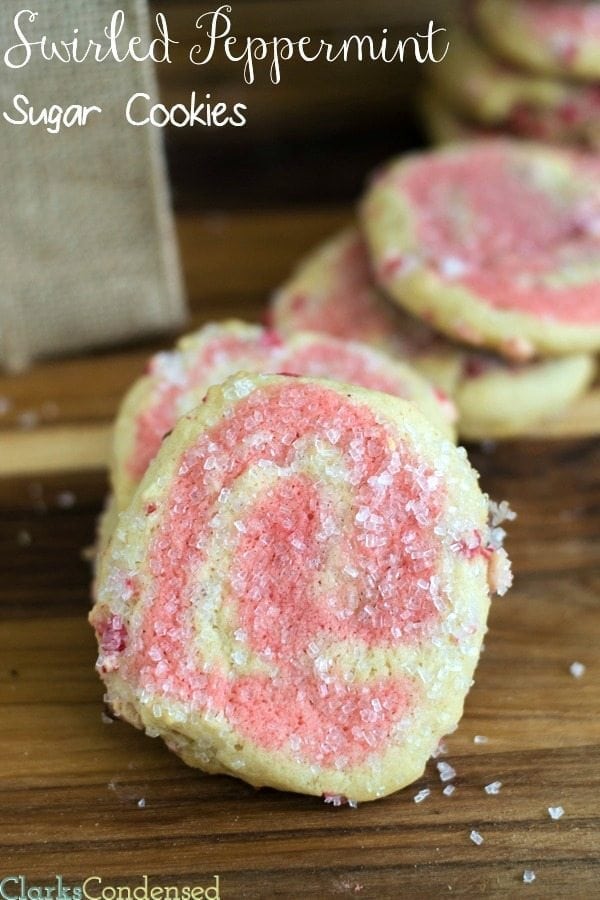 Even though I pretty much eat cookies year round, it always feels a little more justified this time of year. I mean, Thanksgiving and Christmas without any cookies…that sounds kind of sad! So, if you stop by my house, you are sure to find at least some kind of baked good or treat sitting around. I love experimenting with different flavors and ideas until I come up with the perfect treat. Fortunately for me, I have my little Jack to help me with all my baking, so it's even more fun, even if he's constantly trying to trick me into letting him eat bits and pieces of the ingredients along the way.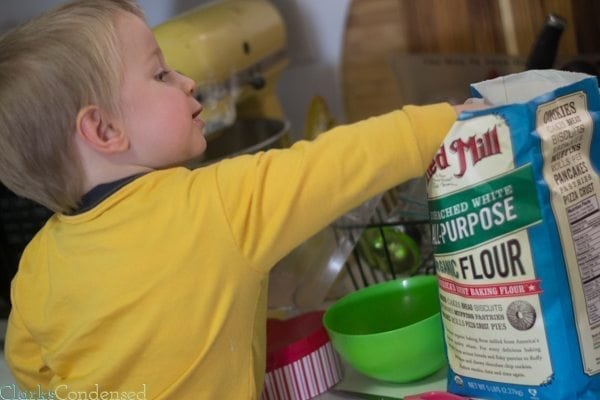 ANYWAYS. I'm so super excited about this recipe! I started thinking about how much I wanted to make sugar cookies a week or so ago, and I thought it would be fun to make them look like candy canes. Then I though, why not add some peppermint? I'd never had peppermint flavored sugar cookies before, so I just went with it, and I really loved it. I only put about 1/2 teaspoon in, and it wasn't overpowering at all (Forrest doesn't love peppermint.) However, if you love peppermint, go ahead and put a full teaspoon in! Also, as I was researching different sugar cookie recipes, I was a little distraught that most of them I found didn't have cream of tartar in them…isn't that a sugar cookie staple?! Either way, this sugar cookie recipe definitely has cream of tartar. I just love the flavor it gives to sugar cookies. I think the finishing touch on these cookies was the sugar crystals! I used Bob's Red Mill sparkling sugar, and it made them look so pretty – don't you think?!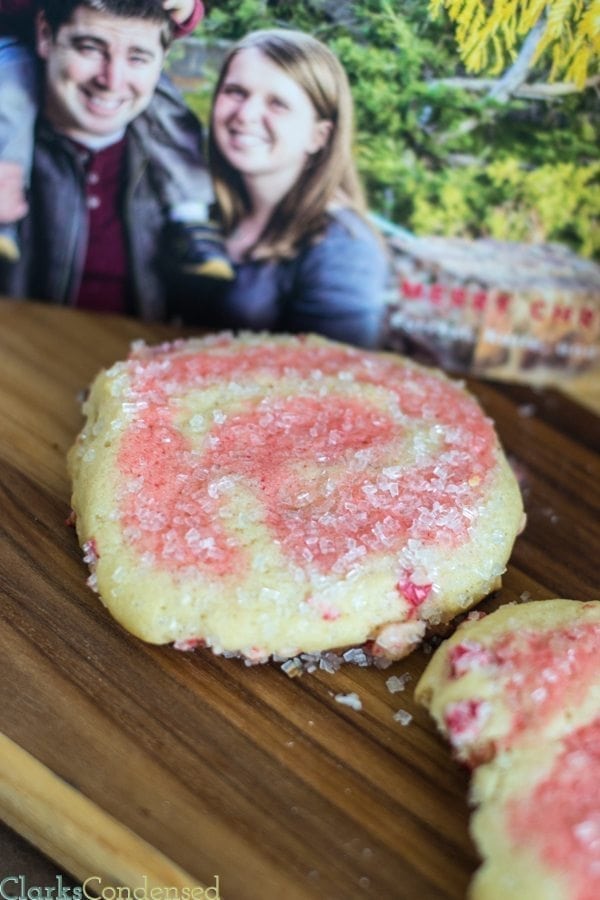 Oh, and just in case you get confused with assembly, here is a little visual for you: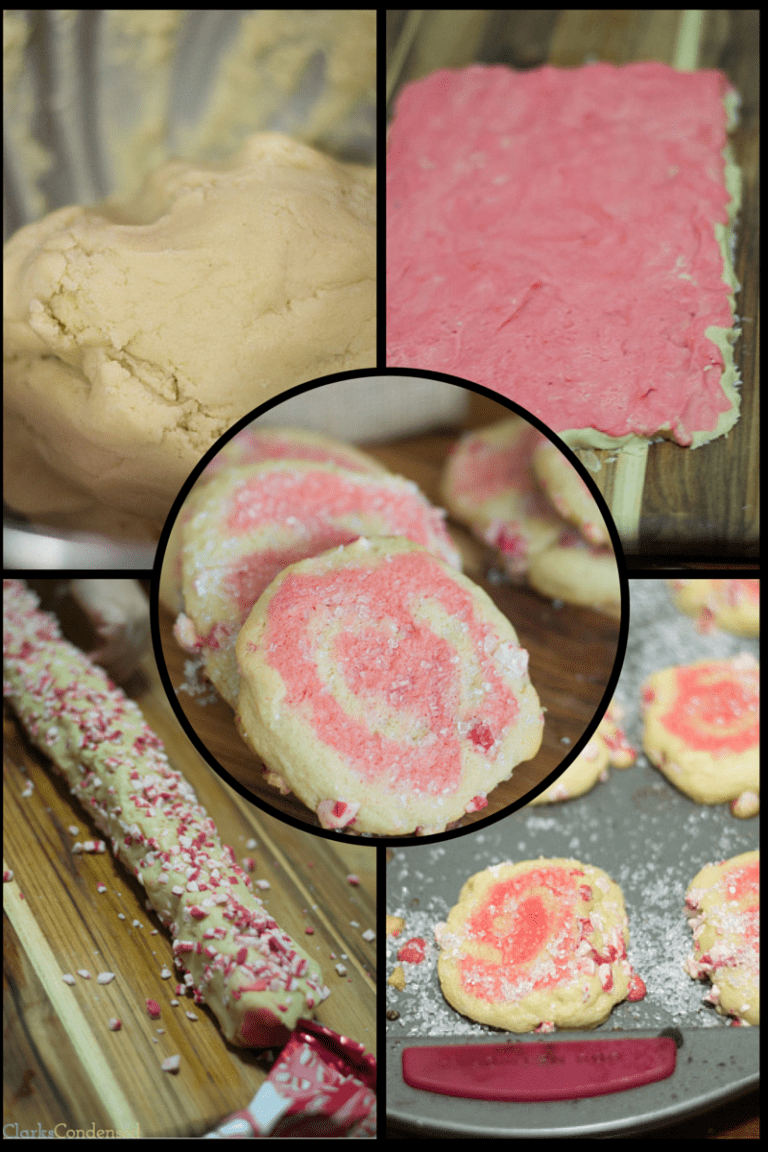 Another thing I love about Christmas is Christmas cards! This year I had the opportunity to work with Minted, which produces AMAZING holiday products. I ordered a couple different products, and I was so pleased with how quickly I got them, and the quality of the product. I ordered
traditional holiday cards
,
holiday card ornaments
to put on plates of goodies we give others, and, my personal favorite, the booklette cards, which are a Christmas card and newsletter all-in-one!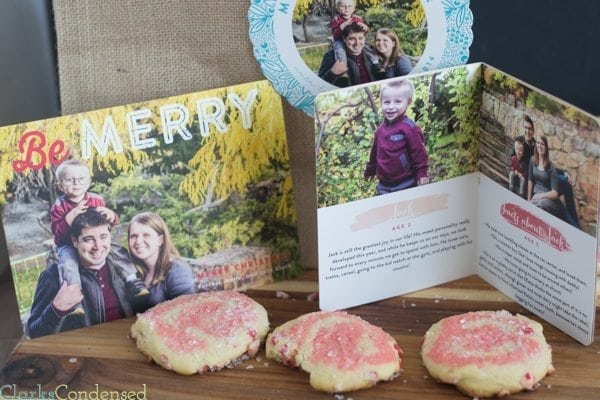 Here are some other delicious Holiday recipes you might enjoy!
Peppermint Chocolate Chip Cookie Mix from The Bitter Side of Sweet
–
Toasted Pecan Pie Crust Mix from Frugal Foodie Mama
–
Gingerbread Yogurt Waffles with Powdered Sugar Glaze from Melanie Makes
–
Easy Cherry Pie Cookies from Pint Sized Baker
–
Candy Cane Swirl Cookies from Clarks Condensed
–
How to Throw a Cookie and Cocoa Party from Juggling Act Mama