Saltine cracker toffee is one of our family favorites – and there's a reason why we sometimes call it Christmas crack. You can never eat just one bite!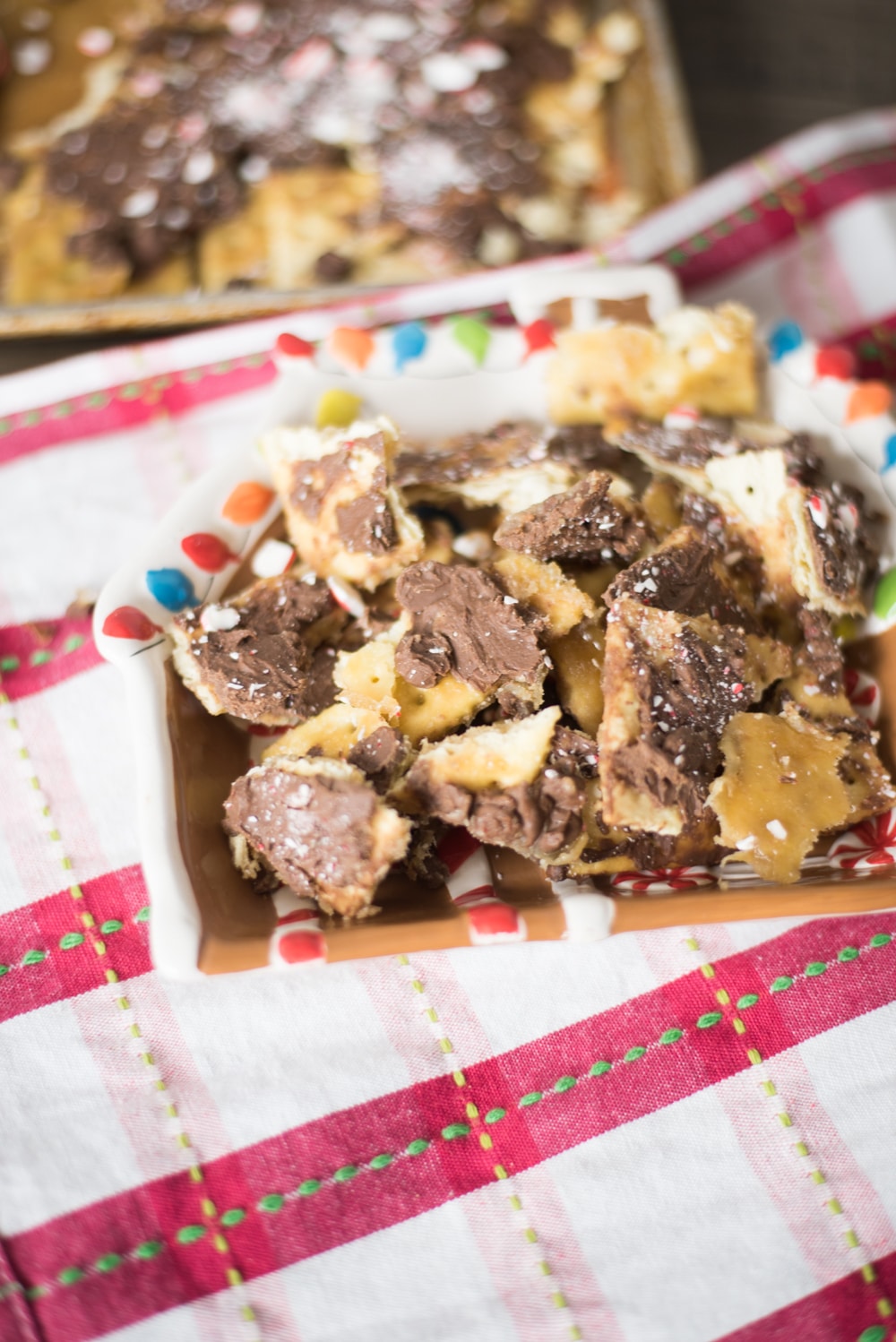 Christmas Cracker Recipe
I always love making Christmas treats every December, and there are a few that I always go to when I have my baking day.
This saltine cracker toffee is one fo them. I started making it years ago, and it quickly became a family favorite.
It is so easy to make, and it always has amazing results. I love that you can adjust it to your preferences!
This is a great one to have children help with – laying out the crackers, spreading the chocolate, and sprinkling the candy on top are all great jobs for them!
We hope that this will be a favorite for your family for years to come.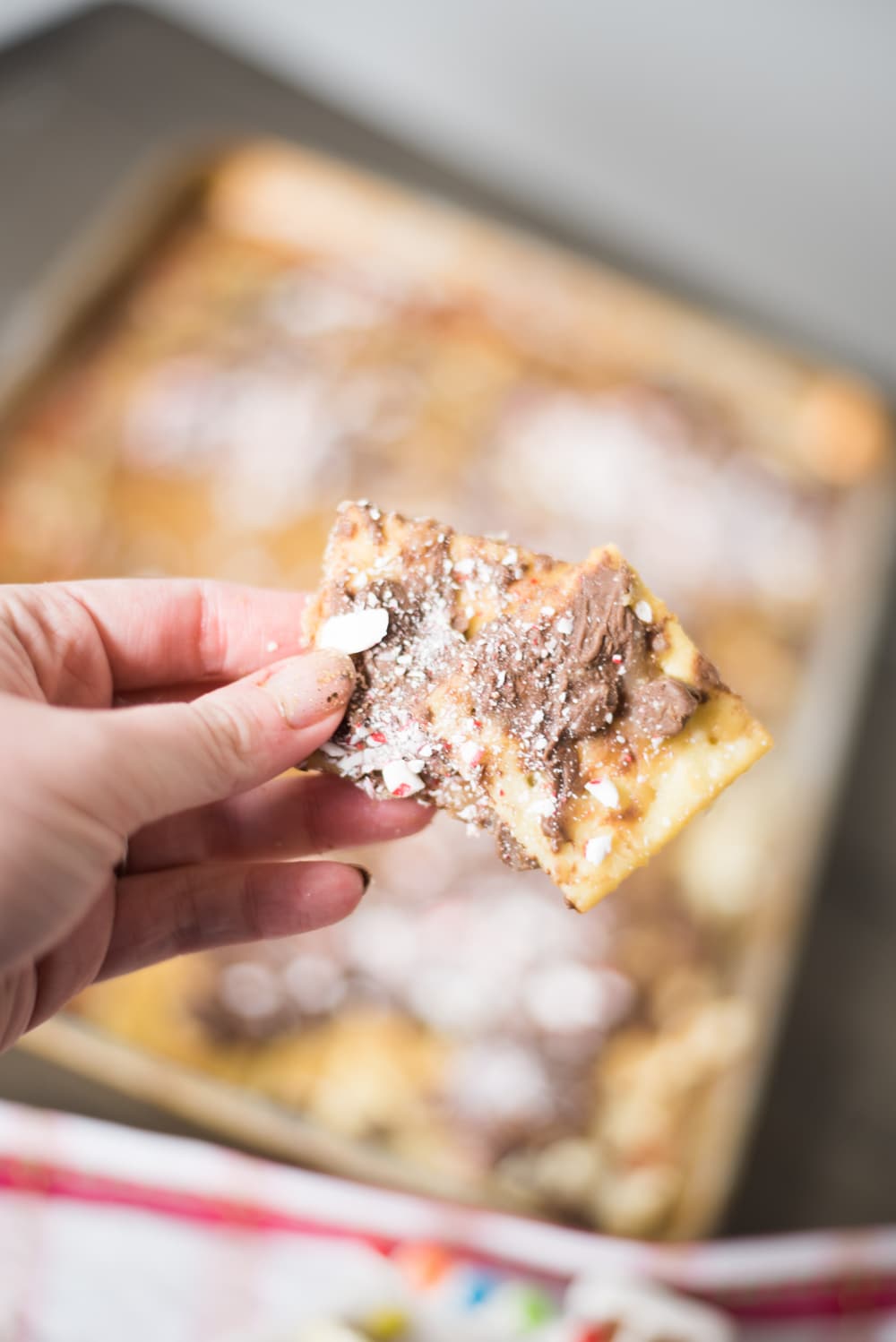 Can I use less sugar? 
I have personally not tried this, and it might affect how well it caramelizes it – but you can certainly experiment with it. 
Can I use a different kind of cracker? 
Yes, you can. People have had success using graham crackers, butter crackers, etc. I would make sure they are as plain as possible, though – so you probably don't want to throw some flavored or multigrain cracker in there.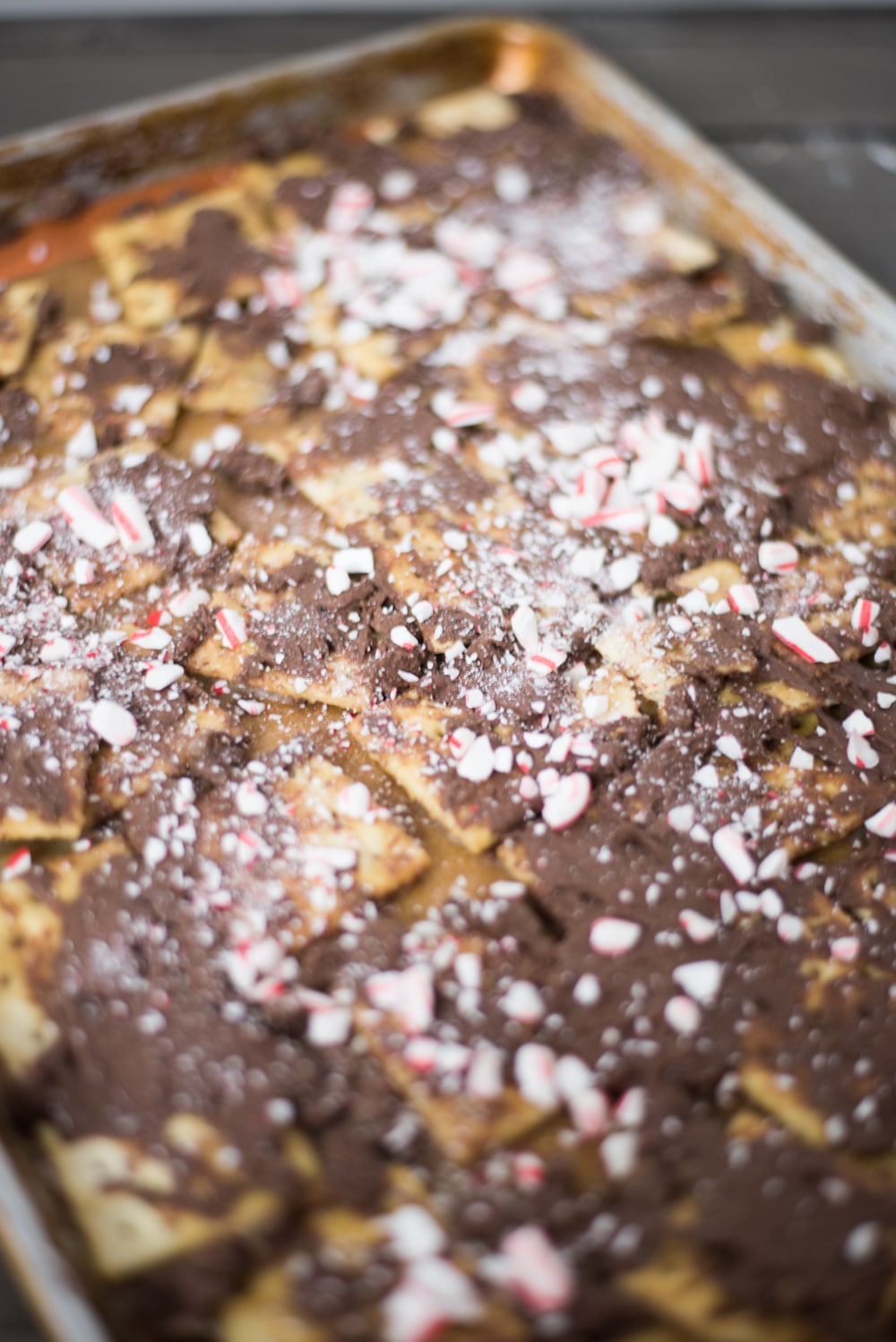 Tips for Success
I HIGHLY recommend having a silicone baking mat to make this one. I've made it on tin foil and parchment paper in the past, and it always sticks to it. Tin foil inevitably gets stuck, and it's not fun to get a piece of that when eating it!
If you don't have access to a silicone baking mat, I would just spray a cookie sheet with cooking spray and put the crackers directly on there. 
After you take the pan out of the oven, place the chocolate chips on it immediately and wait a few minutes before you start to spread them around. They need to start to melt first. 
Make sure you refrigerate it after you are done making it! It only takes about 30 minutes, but it definitely hardens up a lot more easily.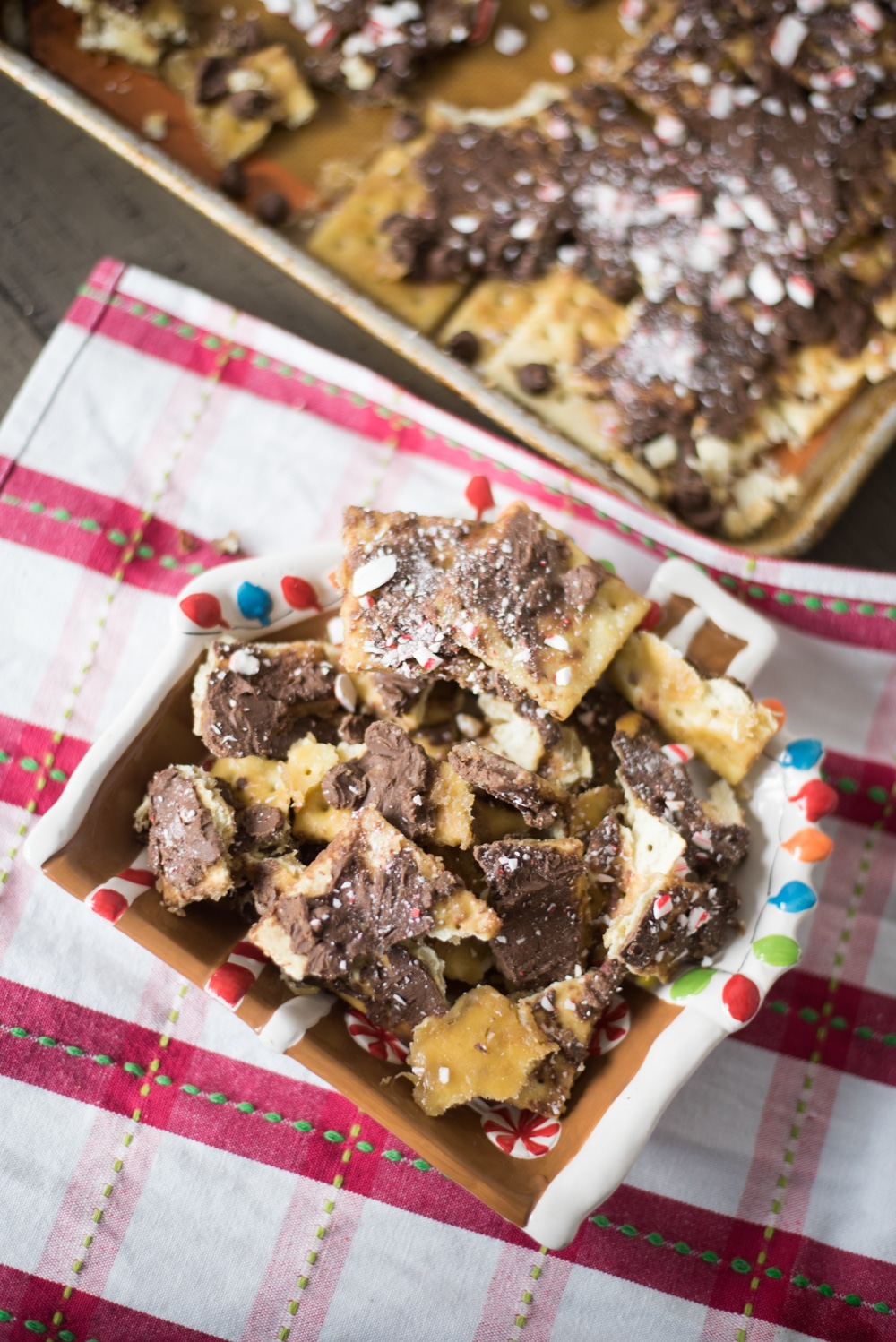 This recipe was originally submitted by a contributor, and here is here original introduction:
Saltine Cracker Toffee Recipe
Ingredients
Brown Sugar
Butter
Saltine Crackers
Peppermint candy canes (or other candies – the sky is the limit)
Instructions
Preheat oven to 350 degrees.
Lay Crackers out on a greased cookie sheet or a silicone baking mat (my preferred method)
 Melt together 1 cup of butter with 1 cup of brown sugar until it comes to a boil. Once it comes to a boil, stir continuously for five minutes. 
Pour over the crackers and spread evenly with a rubber spatula. Place in the oven for five minutes. 
Crush your candy canes. I started with this bowl this time and tried to smash with a potato masher, but I found it easier to just move it to a plastic bag. 
Sprinkle the chocolate chips all over the crackers once they come out of the oven and let sit about three minutes. 
Spread with a rubber spatula. 
Sprinkle peppermints all over the top. 
Place in the fridge for at least 30 minutes. 
Break apart into pieces and enjoy!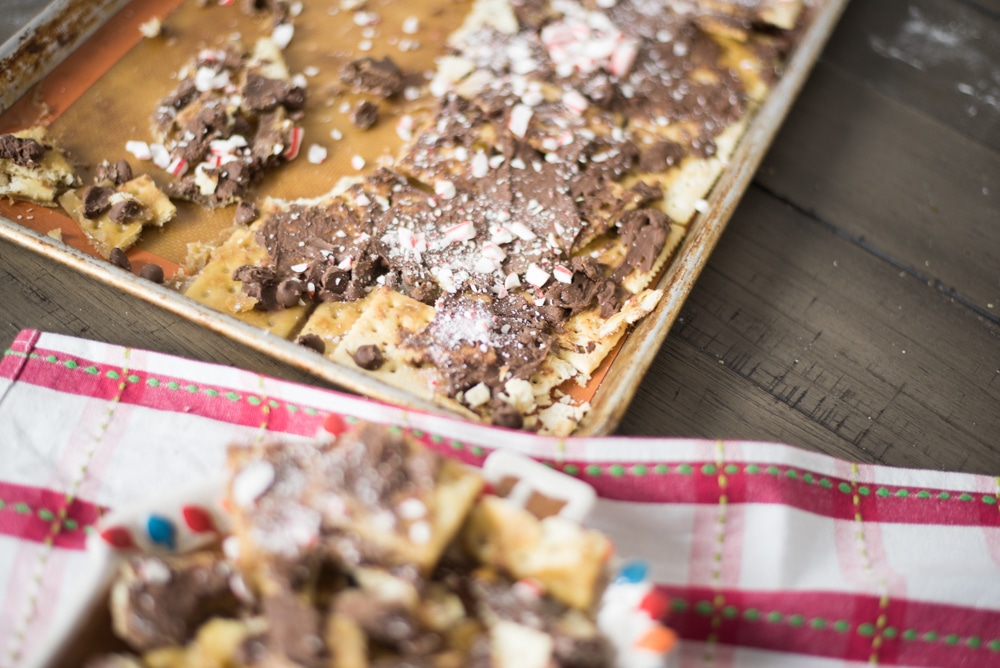 Can I Freeze this Recipe?
Yes, you can. Just make sure you take it out with plenty of time to thaw ?
Does it need to be refrigerated? 
Nope! No need to refrigerate unless you like to eat it chilled!
What are some good variations?
I have used Andes Christmas Chocolate mints on top, as well as the crushed candy canes – and I think I prefer the crushed candy canes. They really give it a nice crunch. They aren't super hard or anything – I feel like all of this just melts into your mouth.
Nuts of any kind would also be really delicious!
You could use white chocolate instead of regular chocolate chips or Andes mints.
More Christmas Recipes:
This saltine cracker toffee is one of the easiest desserts around, but it's one that everyone always loves!