Are you looking for the perfect spring cookie recipe? Look no further than this sweet lemon lime cookies that have the perfect amount of "zing".
The first signs of spring are showing all around. Flowers are blooming, birds are chirping, and there's a renewed zest for all things fresh and new. The zest extends to the treats I want to eat; no more heavy cakes and chocolates. Instead, I crave fresh, delicious treats, like this lemon lime cookie.
My lemon lime cookie is a favorite, and perfect for spring. The brightness of the lemon and lime juice cut through the sweet dough, the colorful zest of the fruits light up the the cookie and the drizzle, and the melt-in-your-mouth flavor reminds you why it's good to be alive.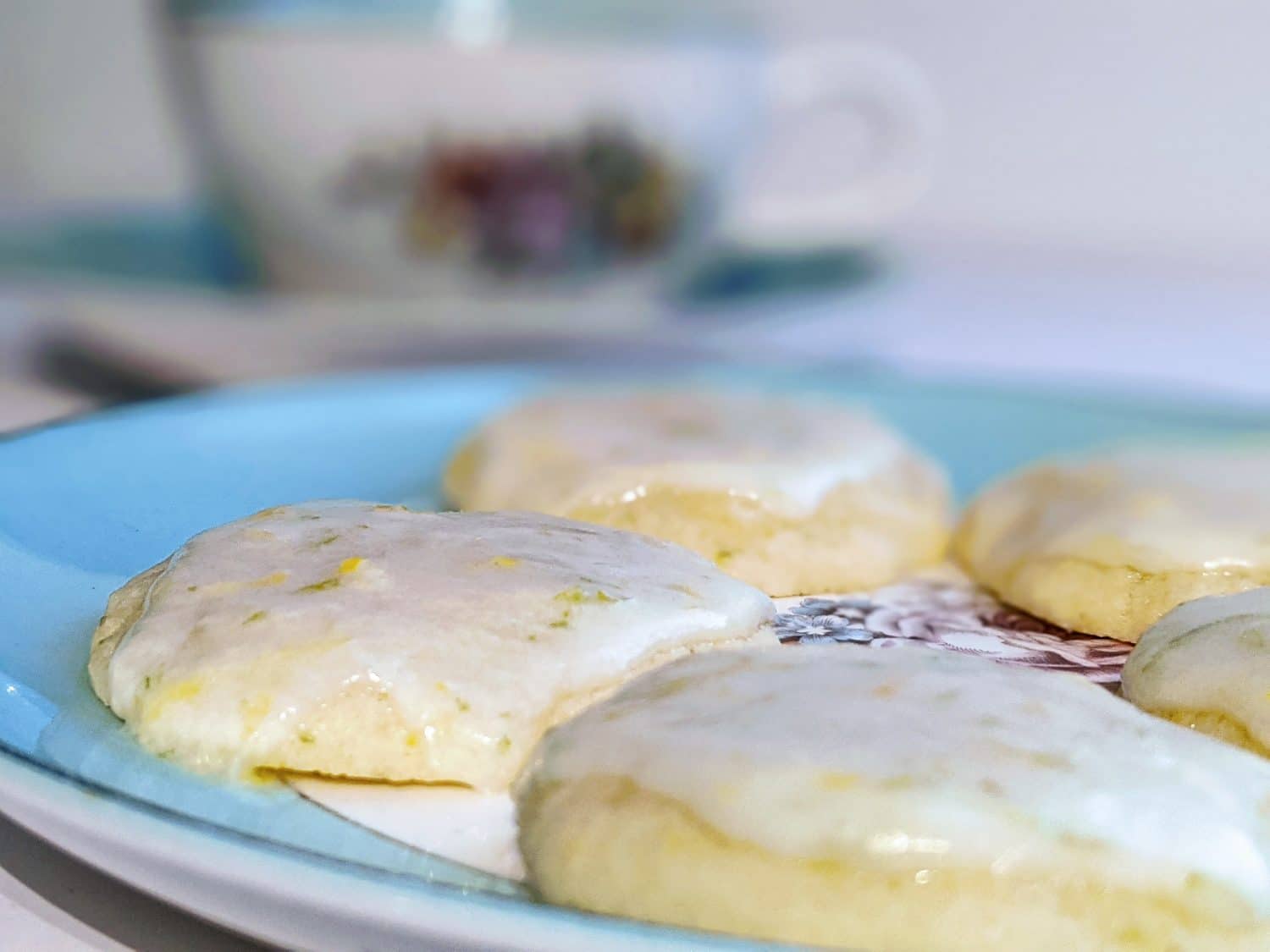 I love to make this cookie for special events because it is a very pretty cookie, in addition to being wonderfully delicious. But it's easy enough to make just for the family. The only extra tool you need is a zester. You can get one from Amazon or Target for around $10 if you don't already own one.
How do you zest a lemon or lime?
Zesting the fruit is actually my favorite part because it's something I don't get to do very often. To zest a fruit, you first need to wash it. Because you're eating the peel, you want to make sure it's clean. Then, taking your fruit in one hand and the zester in your other (dominant) hand, drag the tool across the fruit.
Apply gentle pressure, and you'll see the zest gather on the grater. Do this over, moving the fruit slightly each time. You don't want to zest the same area too many times, as you'll start to get the bitter pith and not the colorful, tasty outer peel.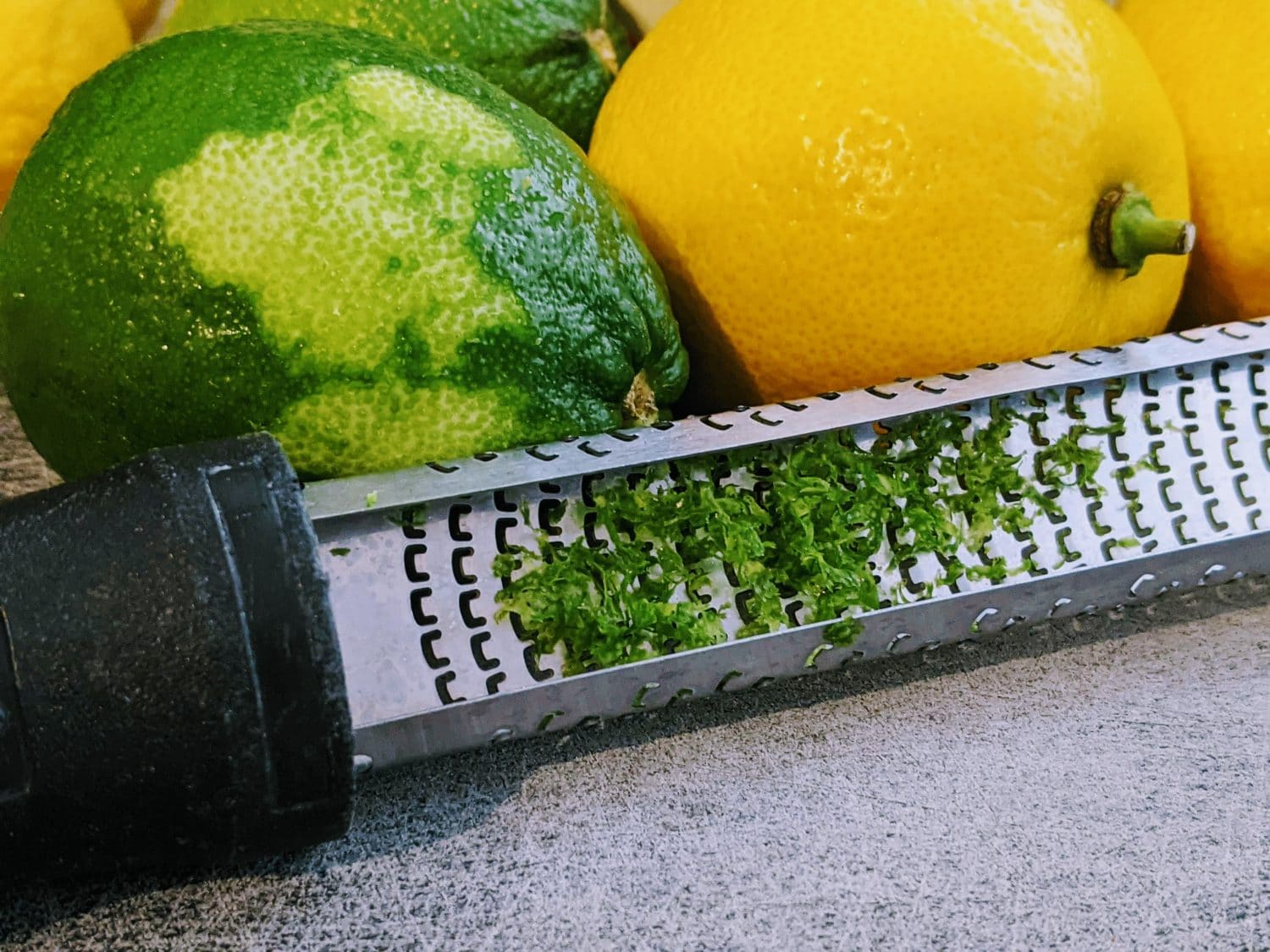 After zesting a bit, turn the tool upside down over a bowl and tap to make the peel fall out. You can scrape the rest out so it's not wasted. You can drag in short strokes or long glides to get different lengths of peel, for this cookie I like them a little longer, so their color shows up in the cookie and glaze.
Each lemon produces about one tablespoon of zest, and about three tablespoons of juice. Each lime produces about two teaspoons of zest, and two tablespoons of juice. But to be careful, I always buy an extra one or two.
How do you juice a citrus fruit by hand?
Most of us don't have fancy citrus juicers (even though they're not expensive and don't take up too much space) but it's not hard to use your hands.
If your fruit is fresh out of the fridge, or a little old or doesn't feel firm and juicy, you can soften it in the microwave. Pop the whole fruit in the microwave for 30-45 seconds. Let it rest five to ten minutes before cutting into it, since it's hot! Do not overdo it, as they'll explode and make a huge mess.
If you need to zest your fruit, do that before cutting into it. It's basically impossible to zest an already-squeezed fruit. Then, microwave if needed (and let it cool). Then slice the lemon into wedges. I prefer quarters since they're easy for my hands to really squeeze.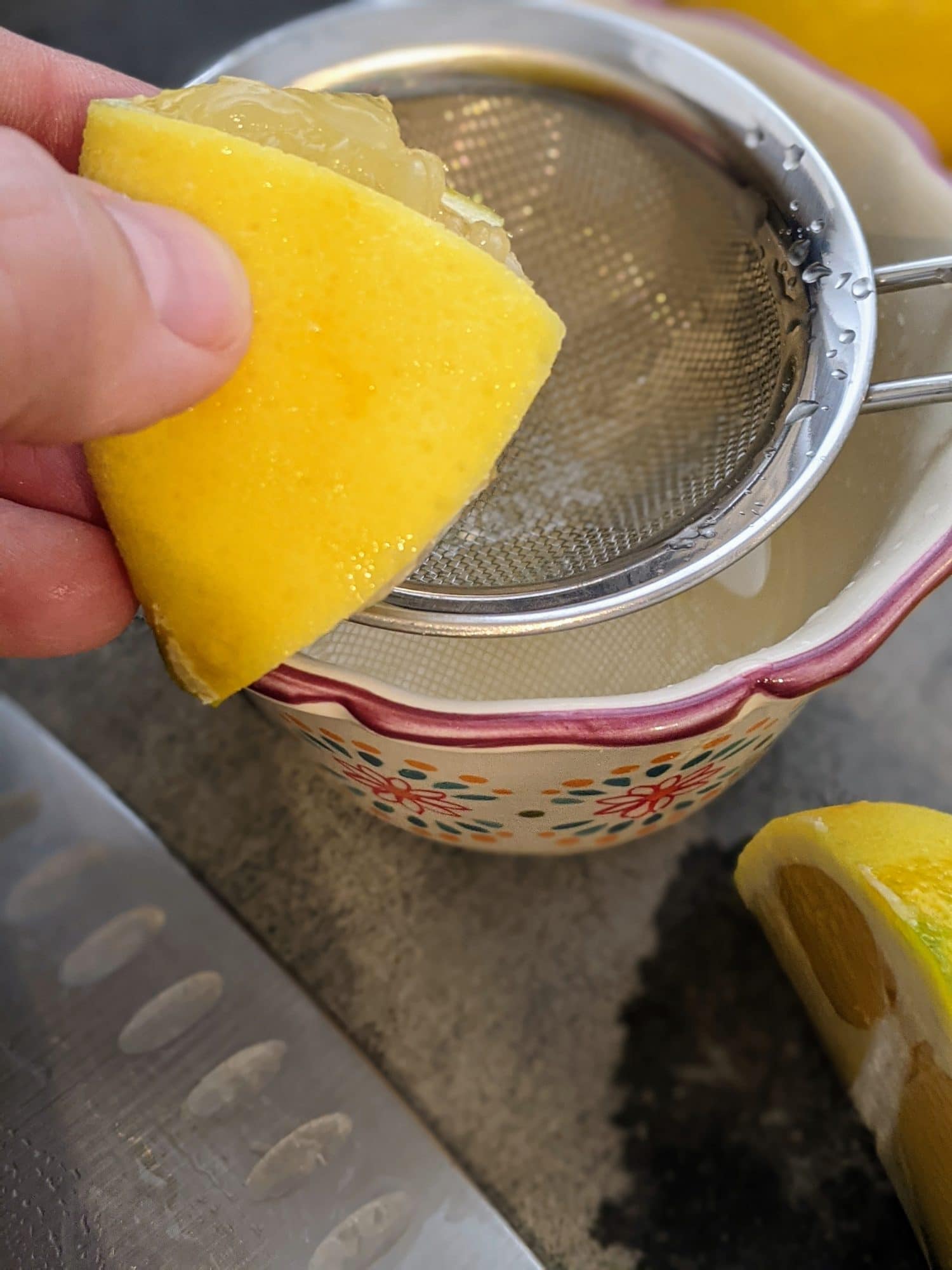 Squeeze the juice into a bowl, working the fruit back and forth to get every last tangy drop out. When you're all done, be sure to strain the juice through a fine sieve to get the seeds, particles and membrane out.
Can I substitute bottled lemon and lime juice?
I'm all for bottled lemon and lime in everyday cooking, but for this recipe I always use the fruit juice. It really does taste better, and since you use some of it fresh in the drizzle, a substitution would be noticeable. We already need the zest, so we might as well use real fruit juice.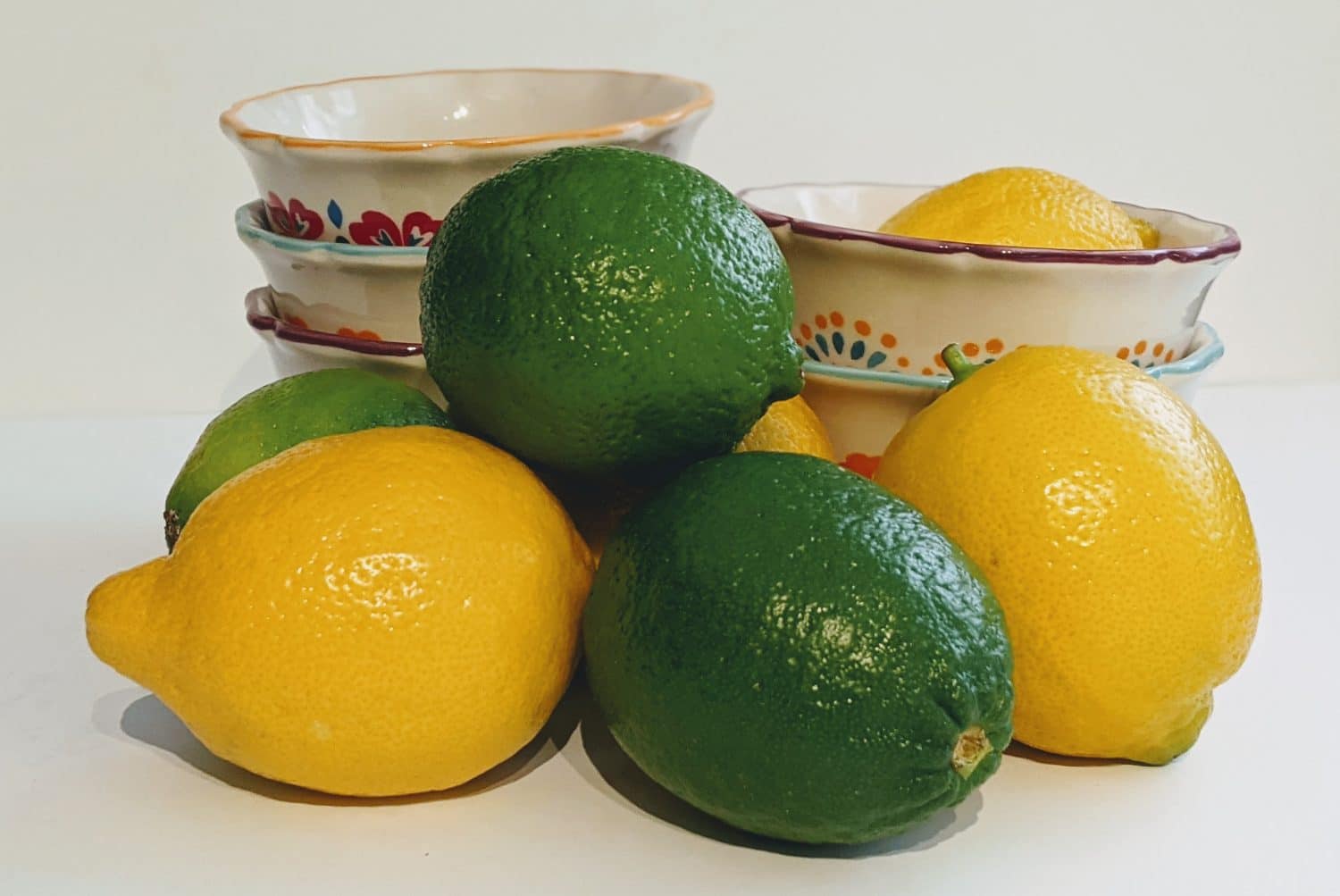 How do I make the drizzle?
This cookie is covered in a powder sugar and lemon/lime juice drizzle. You can decide if you want to make it an elegant and zippy drizzle that runs down the sides of the cookie, or a firmer and sweeter frosting that stays on top. Either is delicious, and the difference is just a little more or less sugar and juice.
Start with powdered sugar, softened butter, and lemon and lime juices. Then mix at a high speed for several minutes. (I make frosting as I tidy the kitchen or prepare the next steps, because the longer you mix ingredients, the smoother and tastier the end result is.) You can add a splash of milk if you want it thinner, or a little more sugar if you want it thicker. As always, scrape the sides to make sure you really get all the sugar mixed in.
When you're close to the end, add the zest and mix. Be sure to scrape the attachment and make sure the zest is mixed in properly, since it can get caught. You can then drizzle the mix over the cooled cookies, or spread it with a spoon or knife for the desired effect.
Ingredients
For the cookie dough:
1 cup white sugar
2/3 cup softened butter
1 tablespoon grated lemon peel
2 teaspoons grated lime peel
2 tablespoons lemon juice
1 1/2 tablespoon lime juice
1 egg
1 3/4 cup flour
1/2 teaspoon salt
1/2 teaspoon baking powder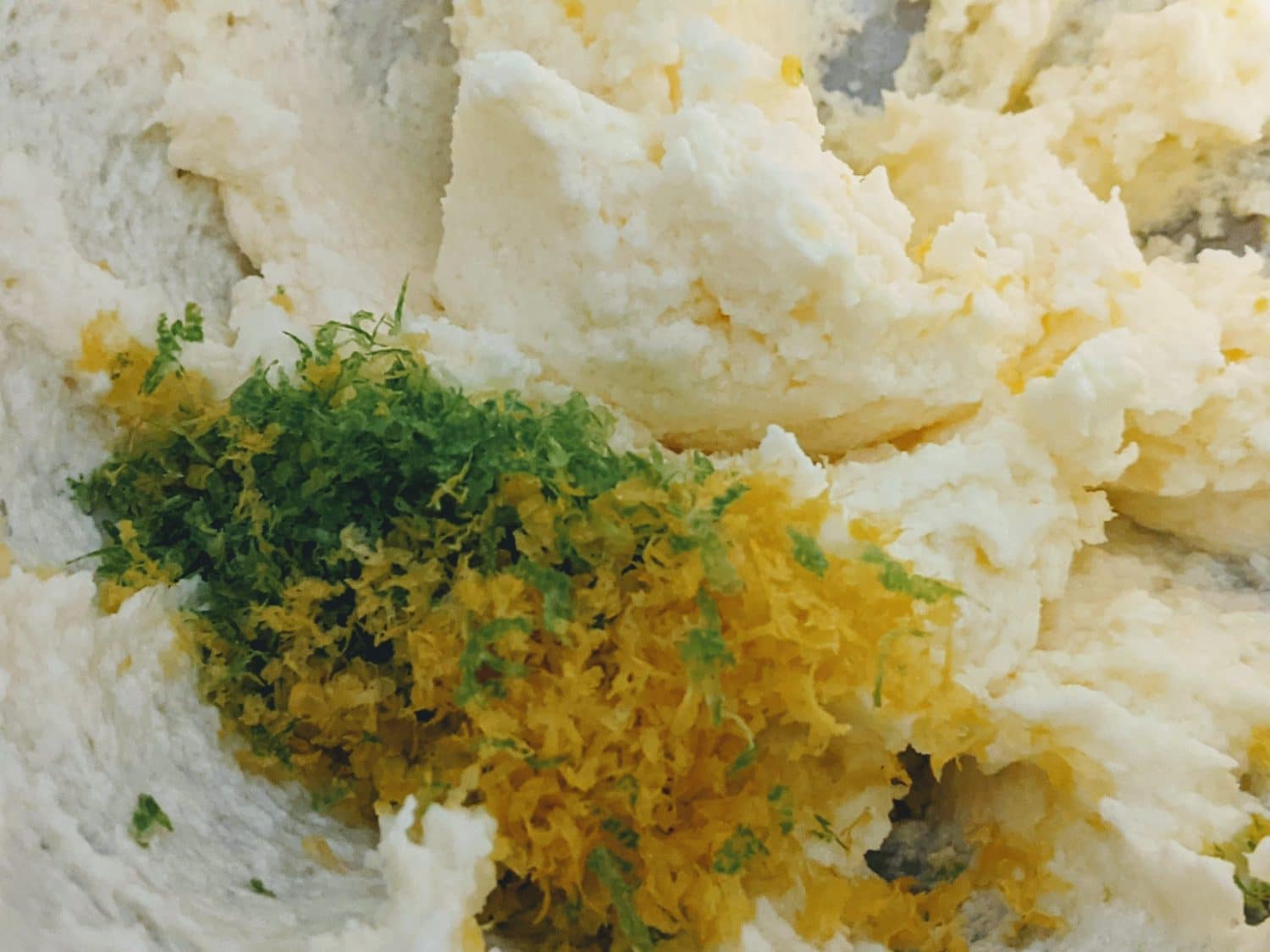 For the drizzle/frosting:
2 cups powdered sugar
2 tablespoons softened butter
1 tablespoon lemon juice
2 teaspoons lime juice
1 tablespoon lemon zest
2 teaspoons lime zest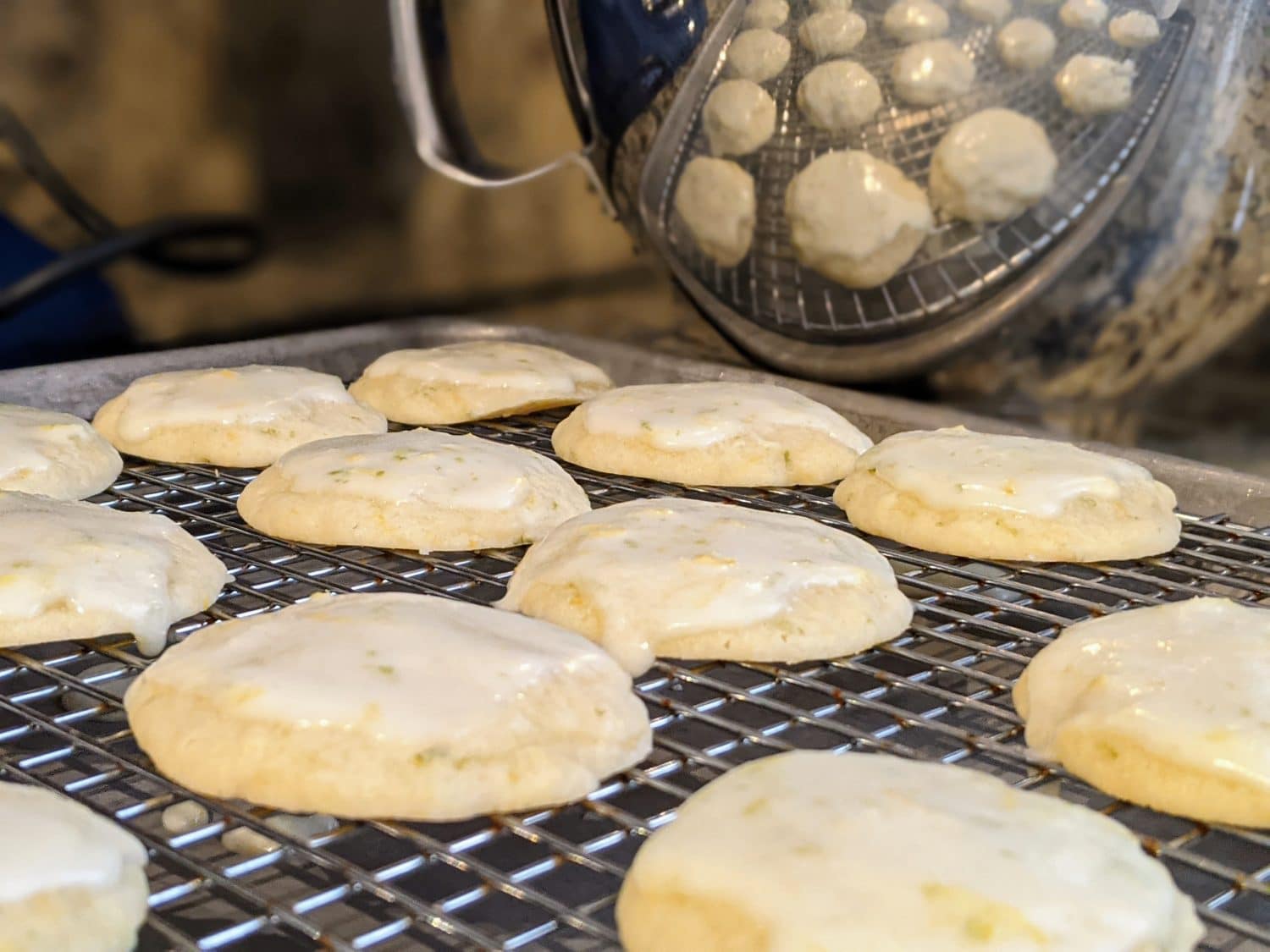 Recipe
Mix 1 cup white sugar with 2/3 cup butter.
While this blends, zest and juice the lemon and lime.
Add the lemon and lime juice, and then the egg.
Mix well, scraping the sides to make sure it all incorporates.
Add the flour, salt, and baking powder, scraping the sides again.
Finally, add the zest and mix until just blended.
This dough will be wet, because of the added juice.
Using two tablespoons, scoop balls onto a lined cookie sheet.
These should be on the smaller side of cookies, rather than larger.
It's delicate and zippy, so smaller portions are better here.
Pop them into an oven heated to 350 degrees Fahrenheit, and cook for at least 8 minutes, until the cookie is no longer shiny and sticky to the touch.
My cookies take 10 minutes to cook, but every oven is different.
Drizzle
For the drizzle, beat 2 cups powdered sugar with 2 tablespoons softened butter and the lemon and lime juice.
Let this mix for several minutes, to really allow the sugar to dissolve into the mix and not retain its grainy texture.
If you need it runnier, add a splash of milk.
When it's ready, add the zest and mix in with a fork or be sure to scrape the beater if the zest gets stuck in the tines.
When the cookies have completely cooled, drizzle or frost them on a cooling rack to allow the runoff to go down the sides rather than make unattractive puddles on either side.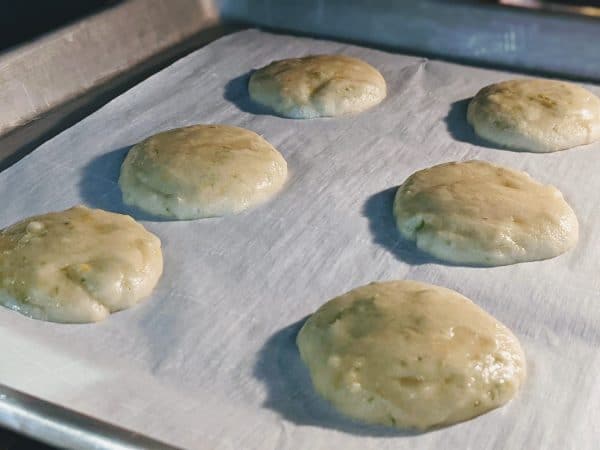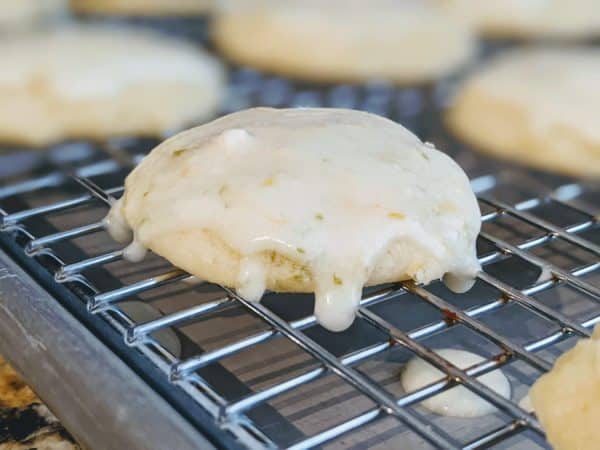 These cookies taste best when fresh, within 24-36 hours of being baked. To store, place them in a single layer on a plate or cookie sheet and cover carefully with plastic wrap or a lid. Because the drizzle is quite sticky, they do not stack well.
The dough and unused drizzle last well in the fridge for four days. You can freeze the dough, but it's best used fresh. The drizzle will not freeze well, as it will split when thawed. Serve these at your next ladies' function, friend gathering, or surprise a neighbor with a fresh plate on their doorstep to let them know spring is here!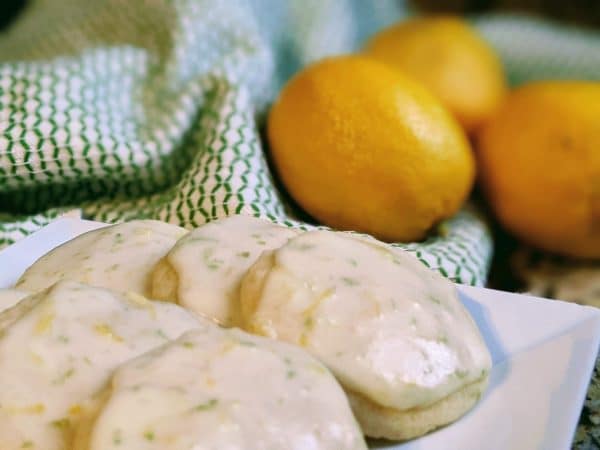 More Cookie Recipes: