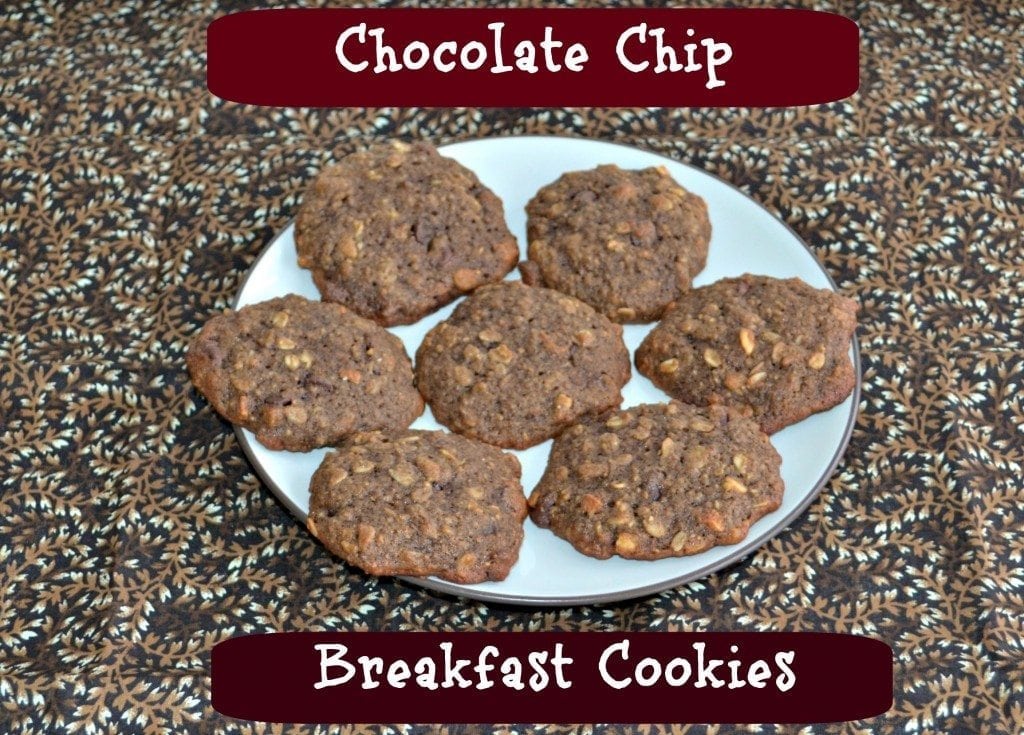 This year we've had a ton of snow. I'm not talking a few inches here or a few inches there but a LOT of snow. As a school teacher I don't like having school cancelled only to make it up in the summer. What I do enjoy are two hour delays. I like them because I get to sleep in, go to work late, and since there isn't any breakfast served at school I get to have all my students in my room for breakfast that I provide to them.
While granola bars and fruit snacks are fine for breakfast when we've only had a few delays, after endless days of school delays my students get bored eating the same thing. This isn't a problem though as I love baking them something to eat. In the past I've made coffee cake, sausage breakfast bread, and breakfast muffins.
On our last delay I had already planned on making chocolate chip cookies for something else and had all the ingredients ready to go. I quickly switched up a few of the ingredients and turned them into Chocolate Chip Breakfast Cookies! These are not just cookies that I've added some oats too in hopes of making them better for breakfast. These cookies are soft and chewy with oats, hot cereal, flax seeds,and other nutritious ingredients perfect for breakfast.
My husband was my taster on these and we both agreed while they didn't taste like a traditional cookie, they were delicious! I loved how the seeds have the cookies a little crunch, the chocolate chips added sweetness, and the cereal and oats added texture to the cookies. The dough freezes well too, so don't be afraid to make an entire batch and freeze part of the dough for later!
Yield:

24
Breakfast Cookies with Chocolate Chips
Ingredients
¼ c. Bob's Red Mill Whole Wheat Farina Hot Cereal
¾ c. water
½ c. butter, softened
¾ c. applesauce
½ c. sugar
½ t. baking soda
½ t. baking powder
1 c. Bob's Red Mill oats
3 T. flax seeds
1 ½ c. all purpose flour
½ t. salt
½ c. chocolate chips
Instructions
In a microwave safe dish, combine the whole wheat farina cereal and the water. Mix and cook for 3 minutes. Remove from microwave and stir. Set aside.
Preheat the oven to 400 degrees.
In a large bowl combine the butter, applesauce, and sugar and mix until blended.
Add in the baking soda, baking powder, oats, and flax seeds. Mix well.
Stir in the flour and mix well. Then add in the warm cereal. Mix until a dough forms. Fold in half of the chocolate chips. They will begin to melt because of the warm cereal but that is ok! After mixing the first half in, fold in the remaining chocolate chips.
Drop the cookies by tablespoon onto a cookie sheet, leaving 2 -3 inches between each cookie.
Bake for 10 minutes or until the top is firm to touch. Remove from oven and allow to cool for 3
minutes before removing the cookies to a wire rack.